New ExpertOption.com account types for traders.
ExpertOption released new account types: Basic, Silver, Gold, Platunum, Exclusive with providing more quality service and trading conditions. Watch our video preview about account types:
We provided with video about new account types on ExpertOption…
Lets see what ExpertOption offer before
We found information about old accounts: `Accountt ypes except Mini will get you your own personal manager. For example, both of these ExpertOption account types will get you increased profit from your assets and consultation with a experts. VIP account will also get you individual trading history analysis. You need $2500 to open VIP.` So here you can see diferrent advantages for these accounts.
New 5 account types on Expert Option

The reason of account changing is providing with more good quality service for clients. As you can see here a lof of changed from ExpertOption. We can see new status names and new price ammount for statuses.
Features of new Expert Option account types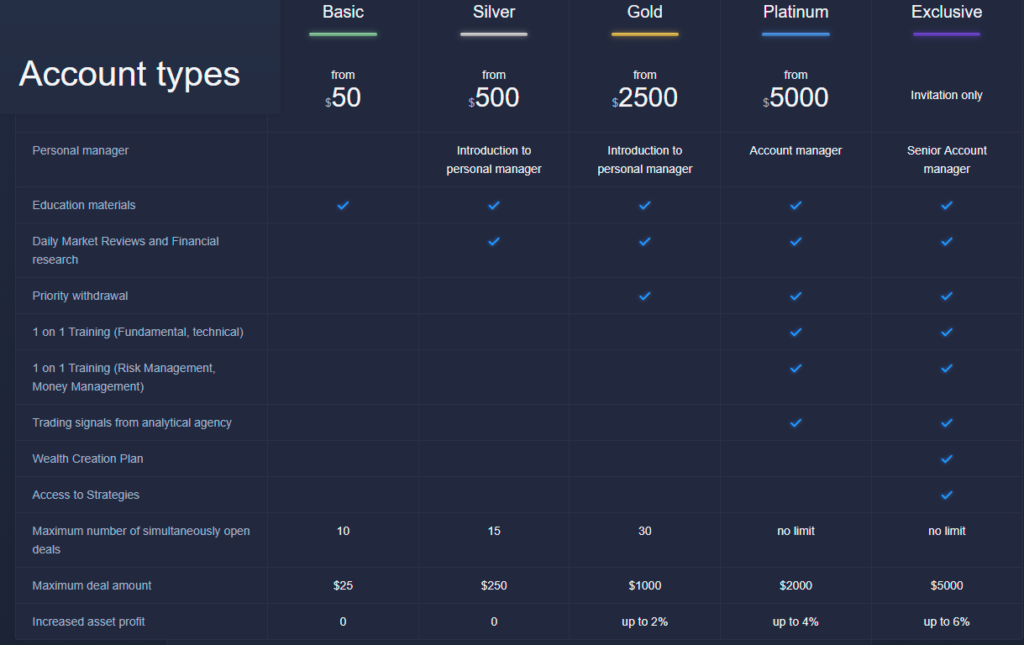 With Basic account you get education material, number of open deals 15, maximum deal amount is 25usd and no increased asset profit. With Silver account you get introduction to personal manager, max number of open deals is 15 and max deal amount is 250 usd. With Gold account you get introduction manager max opened deals is 30, max deal amount is 1000 usd and increased asset profit. You also may use iqoption login if you have account with them. With Platinum account you get account manager, no limits for opened deals, max deal ammount is 2000 usd and asset profit increased up to 4 percents. For the Exlusive account type you get account manager with no limits opened deals amounts, 5000 max per deal in USD and asset profit increased up to 6 percents.